Explore Responsibly at Montana's Trailhead.
Montana Aware is a statewide effort to slow the spread of COVID-19 by promoting safety measures for those traveling in the state. Visit Billings is committed to protecting the health of residents and visitors, and asks that you do the same.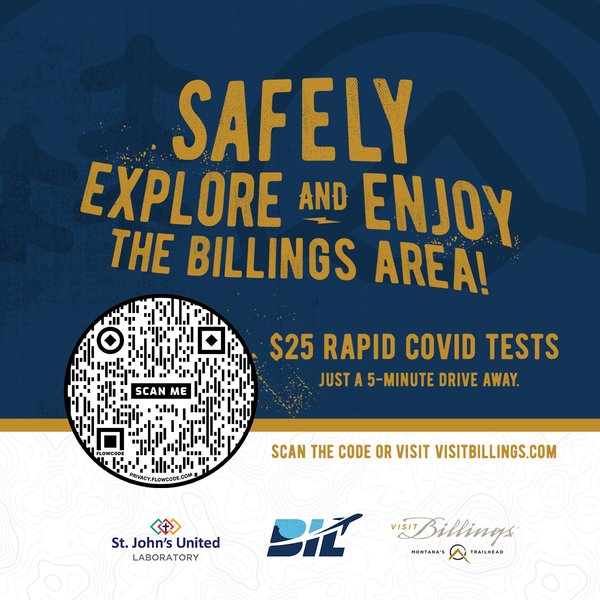 Safely explore and enjoy the Billings area! $25 rapid COVID tests are just a 5-minute drive away. To sign up click here.   
For more information, please visit St John's United Laboratory.

What we are doing and what we are asking you to do: 

If you're planning to travel through Montana, please:
Know the local public health guidelines before arriving to Billings or Yellowstone County or any other Montana community
Understand some services may be limited
Please stay home if you are not feeling well
In Montana, it's important to:
Wear a mask.
Maintain social distance (at least 6 ft. apart.)
Wash your hands & use hand sanitizer.
Avoid touching your face.
Cover coughs & sneezes.

Ways to Explore Responsibly:
Plan Ahead

Check for closures or limited services before arriving (scroll down for details).
Pack masks and sanitizer.
Have a backup plan in case a destination is too crowded.
Keep Space

Keep six feet away from others.
In crowded spaces, indoors or out, please wear a mask.
Explore with your family or household and avoid big groups.
Be Respectful

Respect guidelines to help keep yourself and others healthy.
Respect the land and help preserve our natural wonders for everyone to enjoy.
Respect people and local communities by helping protect public health.
Protect the Outdoors

When giving people space, watch where you step and stay close to the trail.
Pack up any trash and minimize your impact.
Keep a safe distance from wildlife, too.
For more information about the Montana Aware program, go to 
VISITMT.COM
.
We look forward to safely and responsibly hosting you in Yellowstone County and Billings.
At this time, Montana Governor Greg Gianforte has declared that a state of emergency exists in Montana due to the global outbreak of COVID-19.
On February 12, 2021, Governor Gianforte placed the following measures to protect public health in the state of Montana:
 
GENERAL MASKING
Individual responsibility remains Montana's best tool to combat the spread of COVID-19.

Montanans are encouraged to wear masks and should follow the best industry practices adopted by any business they visit to slow the spread of the virus.
PUBLIC GATHERINGS
Any public gatherings or events should be managed in a way that accommodates the Center for Disease Control and Prevention (CDC)social distancing guidelines.
BUSINESSES
Businesses face diverse challenges in this emergency and need flexibility to serve their customers in a healthful environment.

Therefore, businesses should make reasonable efforts to develop and implement appropriate policies based on industry best practices during this emergency. Where no such industry practices exist, such policies should be developed and implemented in accordance with federal, state, and local regulations and guidance regarding:
Masking.
Social distancing.
Temperature checks and/or symptom screening.
Testing, isolating, and contact tracing, in collaboration with public health authorities.
Sanitation.
Use of disinfection of common and high traffic areas.
Teleworking.
Officials with Yellowstone County and the City of Billings have placed no additional restrictions on businesses, however more details are available here:
https://covid.riverstonehealth.org/
.
To find out if other restrictions may be in place at other Montana destinations, visit our partners.
Resources
For more traveler information and prevention tips, we encourage you to seek the most current information from the following sources.
Partner Information & Travel Updates