Five Reasons Life is Great in Billings this Autumn
August 31, 2017
Let the trail lead you to your autumn adventure in Billings, Montana. From wildlife to nightlife and everything in between, fall in Billings is full of fun and excitement. Gear up for everything the season holds with outstanding shopping, dining and amenities plus Montana's only walkable brewery district. From the miles of trails and the Yellowstone River to the historical places throughout the area — it's all waiting to be discovered by you. So, get psyched, bring your bike, take a hike – no two autumn days in Billings are alike.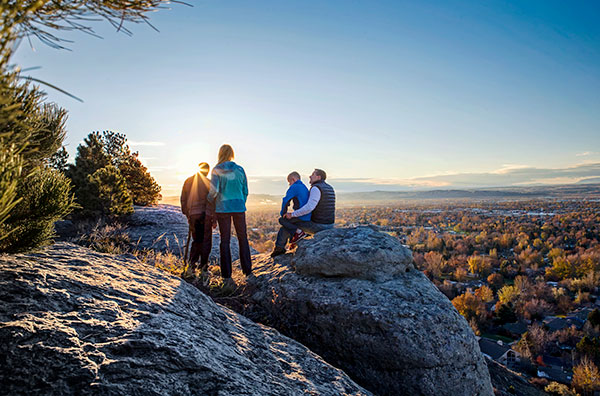 It's a Wild, Wildlife. Fall is a fantastic time for animal adventure. Cooler days mean more animal activity at ZooMontana. Spend the day exploring the zoo's 70 acres that feature regional and exotic animals such as bears, tigers, wolves, a free-flight aviary and more. To see wildlife in it's natural habitat, head to Bighorn Canyon National Recreation Area and see for yourself the largest herd of wild horses in the United States and sight bears in their natural habitat, or view magnificent Bighorn Sheep roaming the high desert. The park allows horseback riding in the South District. If you're looking for a true wild west experience, there's no better show than the NILE Stock Show & Rodeo at MetraPark October 14-21. The week-long event includes four nights of rodeo, so buckle up and strap on your boots because the NILE rodeo is ready and waiting for you! If hunting and fishing is your game, you'll find all of the gear you need and great access to nearby hunting grounds. With Riverfront Park, Lake Elmo State Park and the Yellowstone River all right in Billings, there are plenty of places to drop a line without leaving town. Or, head out a bit further and explore The Bighorn River below the Afterbay Dam — a world class trout fishing area.
The Night Life is the Right Life. There aren't many places in Montana where you can experience a wide variety of live entertainment every night - from headlining concerts to the best in fine dining, there's something for every taste. You'll find nightly live entertainment on almost every block in Downtown Billings at venues like the Pub Station. Alberta Bair Theater, the Babcock Theater, Art House Cinema and Pub and more. Downtown Billings is also where you'll find the only walkable brewery district in Montana. Walk to all six breweries, two distilleries and a cider house, the newest addition to the tour, while you also enjoy dozens of art galleries, local shops and museums along the way. Make a night of it and unwind with friends and fantastic food and drinks before heading to one of Billings' fine downtown hotels for a great night's rest. Or, come to town for one of Billings' most anticipated parties of the year - Ales for Trails, featuring live music, 50+ regional microbrews, unlimited beer & wine tasting, food trucks, giant beer song and a Fat Tire bike raffle... what more can you ask for?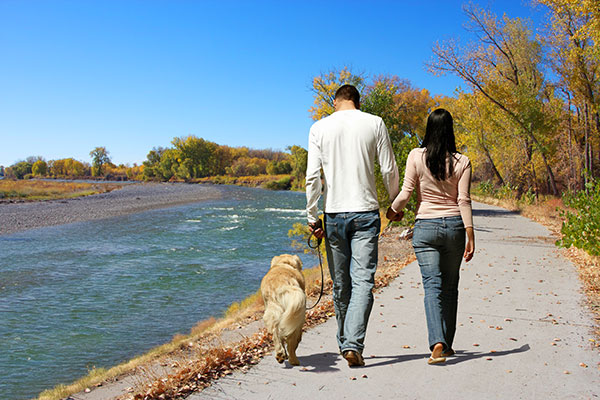 Life on the Trail. Billings isn't known as Montana's Trailhead for nothing. With nearly 26 miles of paved and gravel trails, plus bike lanes throughout the city, Billings is a bike and walk friendly community. Enjoy the views from Swords Park Trail or Four Dances Outdoor Program and then head west to explore the wild landscape surrounding Zimmerman and Phipps Parks. Head to Bighorn Canyon and choose from over 27 miles of trails, ranging from short walks to dramatic overlooks or longer hikes that can take you to a historic ghost town and an amazing collection of ranches still kept in their original state. The adventures are endless!
Style your life. Whether you're looking to add to your wardrobe, find treasures for your home or outfit yourself for outdoor adventures, Billings has the stores for you. From small boutiques to big name chains, there's a wide selection of stores for every style and budget. Kick off your holiday shopping November 3-5 at Market Place Magic at MetraPark featuring home decor, food, jewelry, furniture, and clothing from a variety of national, regional, and local vendors. Rimrock Mall to Downtown Billings, the West End to Billings Heights — you'll find everything you're looking for and more. Billings has always enjoyed a vibrant arts scene highlighting the best in Native American and western culture. Shop and enjoy works at area galleries and Yellowstone Art Museum during Art Walk Friday, October 6th.
Live the History. When you walk in and around Billings, chances are you are walking right into history. Learn about the early days of Billings at the Western Heritage Museum and the Moss Mansion, home to the city's founder. Come to Billings Thursday, September 28th, and hear Yellowstone Kelly (Kevin Kooistra with the Western Heritage Center) tell his story at the Yellowstone Kelly Interpretive Site Grand Opening. Enjoy food & drink, music, freebies and more as we celebrate a great community project. Venture out a bit farther and take a step back in time by exploring Pompeys Pillar, some of the only remaining physical evidence of the Lewis and Clark Expedition. Not to be missed, Little Bighorn Battlefield will give you a glimpse into the devastating fight of Custer's Last Stand. Prehistoric hunters left imprints on local caves that can still be seen today. The Pictograph Caves can easily be explored via a loop trail, offering an up-close view of pictographs, also known as rock paintings, that are thousands of years old. As Montana's largest state park, the badlands of Makoshika is the perfect place for a dino-mite weekend. Home to the pine and juniper studded badland formations and fossil remains of such dinosaurs as Tyrannosaurus Rex and Triceratops, included within the park are an archery site, scenic drives, hiking trails, 28 camping sites, a group picnic area, and an outdoor amphitheater. Sounds like a great place for a weekend adventure!
No matter what life you want to lead this autumn, Billings is the perfect place to find yourself. For a comprehensive list of events, outdoor recreation, shopping, dining, lodging and more, explore this site and plan your autumn adventure today.