Billings, Montana Shamrock Tour®: 
Touch the Sky
Foothills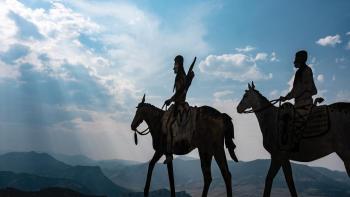 I land in Billings and meet Cameron at the moto-inspired MoAV Coffee House. We're both eager to spend time in Big Sky country, and brand-new 2018 Gold Wings await us at Montana Honda & Marine. The next morning we start with breakfast at Stella's for strong coffee and a cinnamon roll big enough to sink the Titanic, pick up the bikes, and jump on the interstate to blast out of town.
We turn onto a smaller state road and then onto a rural road. Trees, buildings, and cars all but disappear as the road rises and falls with the grassy folds of the land, passes through somnolent hamlets, then drops down into Red Lodge, a funky little mountain town at the base of Beartooth Pass. This is the only place for miles with good eating options and gasoline. We stop for lunch and then continue westward, the peaks of the Custer Gallatin National Forest peering over our left shoulders. 
The big mountains are blanketed in smoke from the summer's western wildfires; some of it, we're told, has drifted all the way from California. The color of the day is straw, dry grasses as tall as my waist stretching as far as the eye can see. The only time the color changes is near a creek or stream where the grass turns green and trees drink the water and reach for the sky. The road turns north and gradually unwinds as the land flattens. Before we head back to Billings, we spot a twisting two-lane road that invites the Gold Wings to dance, and we are eager partners. We head back to Billings to explore the downtown on foot and grab dinner.
Touch the Past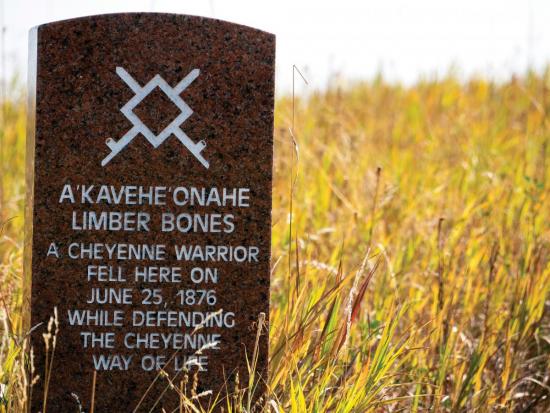 The road crosses over railroad tracks, vaults the Yellowstone River, and flows into the lonely, rolling brown hills of the Crow Indian Reservation. It's hard to believe we're just minutes from downtown Billings. The roadside turns thick with lush green trees as we run alongside a small creek, but they disappear just as quickly as they arrived. We ride through a harsh, arid land along the edge of the reservation. The Crow Reservation is 3,600 square miles but contains fewer than 8,000 residents.
The earth rolls like giant ocean waves beneath a hazy sky. Tall grasses, brown from the dry summer, blanket the peaks and troughs. Lakota, Cheyenne, and Dakota call this place "Greasy Grass." It would be a struggle just to run up and over these hills, let alone fight on them for your life or your way of life.

But that's exactly what happened in 1876 at what is now called Little Bighorn Battlefield National Monument. Some places feel sacred, reverent. This is one of them. Not only for Custer National Cemetery, with its rows of somber white gravestones (some with names and others blank) standing eternally in formation, but for the blood that was spilled on this soil. Near the top of Last Stand Hill, stones mark where the soldiers of Lt. Colonel George Custer's 7th Cavalry were felled by Lakota and Cheyenne warriors. Sitting Bull, a Lakota spiritual leader, claimed to have seen the Battle of Little Bighorn in a dream where soldiers fell into his camp like grasshoppers from the sky. Custer, tasked with forcing Lakota and Cheyenne back to their reservations, underestimated the size of his opponent. Nearby, the "Spirit Warriors" sculpture—native warriors on horseback heading off to battle with a woman handing a shield to the third warrior—acknowledges the Native American side of the story.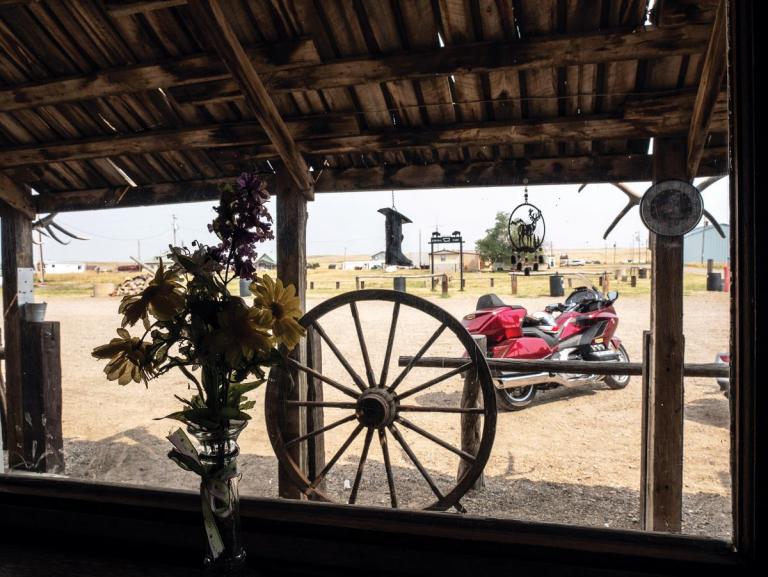 After a quick lunch of Indian tacos at the Custer Battlefield Trading Post, we cut across a barren landscape, blipping up and over an occasional hill before resuming our tireless march. Along one stretch, the wind turbulence from the bikes stirs the roadside wildflowers and we leave a wake of scattering butterflies behind us. The morning cool is gone, the gentle breeze is gone. All that remains is heat raining down from that big yellow ball in the sky. We're practically alone out here on the Crow Reservation, on a road that connects little more than two nowheres. The Gold Wing's navigation shows the Bighorn River nearby. We can't see it but we do notice the land becoming a little bit greener, stands of trees in the distance and farms butting up against the road. Water is life, especially out here on the high plains. Finally, we make it to Fort Smith and ride up to an overlook of the Yellowtail Dam, a stark white arc of concrete in a canyon of red sandstone.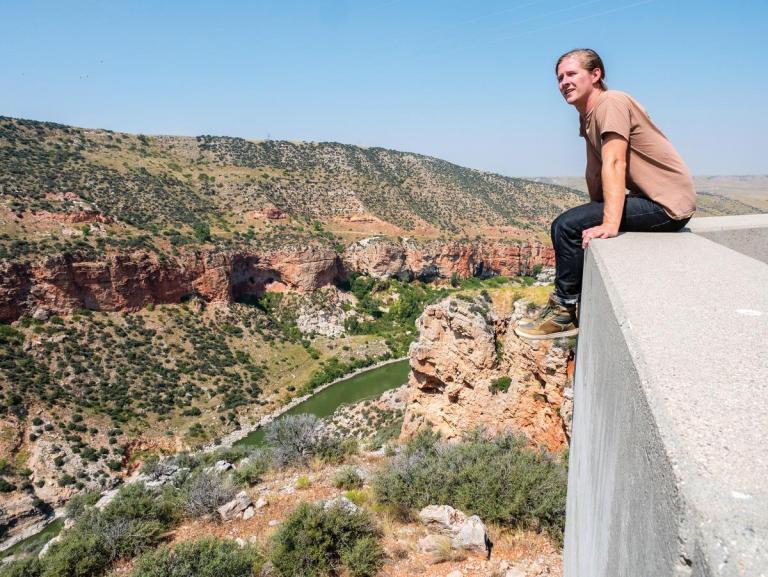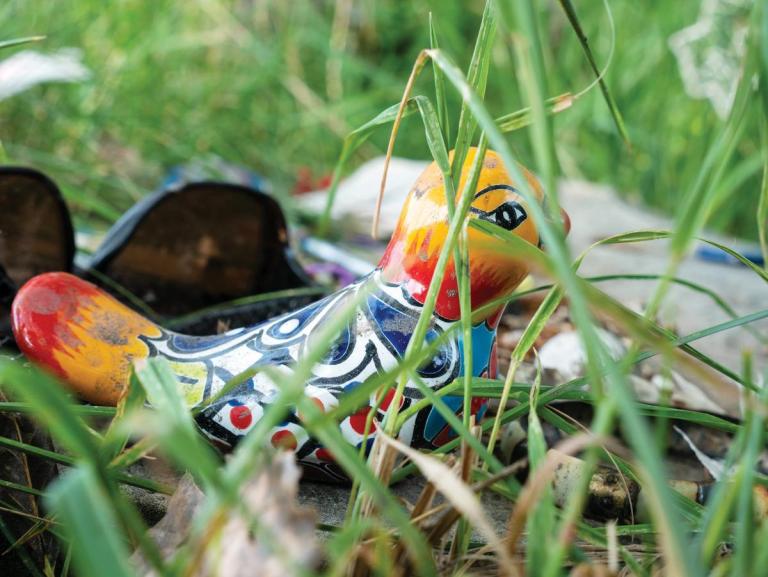 We leave the dam and the river behind us and ride deep into the Crow Reservation, the uneven road thumping and heaving over a minimalist landscape of hazy sky and brown earth. At Chief Plenty Coups State Park we seek the shade of cottonwood trees drinking from a natural spring. Chief Plenty Coups, the leader of the Crow Nation, planted them after seeing the species of tree at George Washington's Mount Vernon home in the 1880s. When he returned to Montana, he built a log home but he still preferred sleeping in a teepee. When he was young, Chief Plenty Coups had a vision that non-native people would eventually take over his homeland, and as a result he tried to forge a peaceful path to that inevitability. Later in life, after his vision had come to pass, he wrote, "The ground on which we stand is sacred ground. It is the dust and blood of our ancestors ... The antelope have gone; the buffalo wallows are empty. Only the wail of the coyote is heard ... We are like birds with a broken wing. My heart is cold within me. My eyes are growing dim—I am old."
Before we head back to Billings, we stop at a dusty, old, no-name single pump/single grade gas station in Pryor for a snack. Customers aren't allowed into the convenience store (for security, we suspect), so we stand in a small vestibule and peer through a small window to place our order with Debbie. We buy sodas, water, and ice cream sandwiches, sit on the curb, and chat with some boys on bikes. A woman pulls up in an old car, buys ice, and asks the boys to bring them to her car. The state of her car makes me wonder if she has a working refrigerator. We finish our ice cream sandwiches, suit up, and ride back to Billings.
Touch the Sky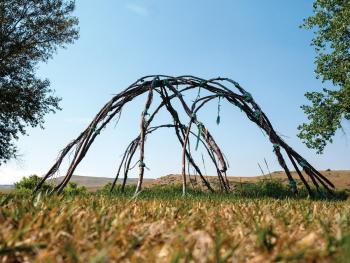 We top off the tanks and grab sandwiches at Regis in Red Lodge before heading up Beartooth Pass. The base is thick with trees. Then the mountains close in. I look up at a wall of green and cannot see the way up, but then we turn and the mountain lifts the road. Every time I cannot see the way up, the road turns to reveal a new vista and a new route skyward. It's like a favorite song: no matter how many times you hear it, it never gets old. We stop at Rock Creek Vista overlook for our picnic lunch. We are high-up now, nearly at the top of the pass, the valley spread out before us like a model train set. A layer of smoke from the western forest fires hangs in the air but it does not diminish our enthusiasm. We remount the Gold Wings and continue our climb until the trees disappear and even the grass struggles to grow. It's chilly at the top of the nearly 11,000 ft-tall pass and we stop to scramble around the rocks, walk in a field of snow (in August!), and touch the sky.
The road carries us into Wyoming, and we descend down the south side of the pass before turning onto Chief Joseph Scenic Byway, named after the Nez Perce leader who led his tribe through this area in a difficult period in their history. After decades of broken treaties, the Nez Perce were ultimately displaced from their ancestral homelands (Oregon's Wallowa Valley). But before leaving, they scuffled with settlers, killing several. In the summer of 1877, Chief Joseph led 700 men, women, and children across Idaho and Wyoming in hasty retreat from chasing U.S. soldiers.
The road cuts through a deep v-shaped valley formed by the Clarks Fork of the Yellowstone River before climbing up and over Dead Indian Pass. From the Dead Indian Summit Overlook you can see the silhouettes of hills and mountains stacked all the way to the distant horizon. Chief Joseph led the Nez Perce on foot and horseback across 1,100 miles of these rugged lands that we sail across today. Joseph and his tribespeople were just 40 miles from the Canadian border and political asylum (where they had hoped to join Chief Sitting Bull and the Lakota) when General Howard and the U.S. Army caught up with them. Upon capture, Chief Joseph said, "I am tired of fighting. Our chiefs are killed ... The old men are all dead … It is cold, and we have no blankets. The little children are freezing to death … My heart is sick and sad. From where the sun now stands I will fight no more forever." Chief Joseph and the Nez Perce were transported to forts and reservations in Kansas and Oklahoma. He never saw the Wallowa Valley again.
The scenic byway empties us out onto a broad, flat plain of sandy nothingness. We roll on and chase our thirst back into Montana and to the first gas station and convenience store that we find.
High Plains Drifters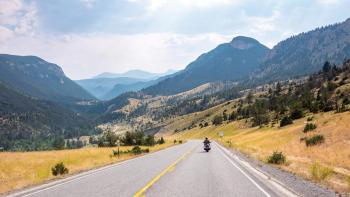 We point the bikes northeast and follow the Yellowstone River along a farm road with fields on either side until we get to a mound of rock and dirt sitting incongruously in a field. On the return leg of their American expedition, famed explorers Lewis and Clark split up, with Lewis following the Marias River, and Clark following the Yellowstone. Clark ended up here and in 1806 etched his name into this mound of rock that is now called Pompey's Pillar. We tour the museum and go in search of Clark's name on the rock. We hike to the top from where we can see the Yellowstone River. 
In the mid-morning heat we wander on lonely backroads that flirt with the sandstone escarpment by the river. We stop for gas, and as we're filling up a fellow rider and his friend walk over and ask, "Is that the new Honda Gold Wing?" We've been asked the same question many times on this trip. We chat, talk about our Gold Wings and Aerostiches, take a group selfie, and then get back on the road and head north.
After nearly 40 miles of flat, hot, treeless desolation, the GPS tells us to turn left down a dirt road. A quarter mile later we arrive in Ingomar, population 14. Founded in 1908 as a train station stop, Ingomar boomed as homesteaders made a go of life on the frontier. Boomed, of course, is a relative term, but during its brief heyday the town boasted a general store, schoolhouse, and bank. It didn't last, though, as the homesteaders quickly learned that the area is just too harsh for either ranching or farming. But Ingomar didn't become a ghost town. The bank was turned into a bar, Jersey Lilly, and today it is a timepiece from a nearly-lost era, with a rough-hewn roof covering a wooden plank sidewalk and a rail to hitch your horse to. Inside the brick building you'll find a coffered ceiling, wide plank wooden floors, ceiling fans slowly churning the (thankfully) air-conditioned air, an imposing wooden bar, and old-fashioned western hospitality. What you won't find, though, is a bathroom; there is an outhouse out back. 
Numerous people back in Billings, said, "Order the Sheepherder's Hors D'ouvres." For some reason, Cameron and I both thought of Rocky Mountain Oysters, but upon reading the nervous looks on our faces, they assured us, "Don't worry, it's not testicles." With that image still in the backs of our minds, we take a leap of faith, order a plate and are neither freaked out nor disappointed. What is it, you ask? In keeping with tradition, we can't tell you; you just have to go to Jersey Lilly.
After lunch, the heat attempts to smother us as we cross the barren landscape. This is as middle-of-nowhere as I've been on a motorcycle, and I've been to some pretty nowhere nowheres. We blast through places named on the GPS that are little more than a fistful of streets and buildings tossed upon the Northern Great Plains. We make it to the city of Roundup, Montana, where we hydrate and refuel, then point the bikes back to Billings.
On our final night in Billings, Cameron and I belly up to the bar at Uberbrew and share stories of our trip to anyone who will listen. We came to touch the sky. And we did, but we also touched history and culture, and so much more. 
DESTINATION: Billings, MT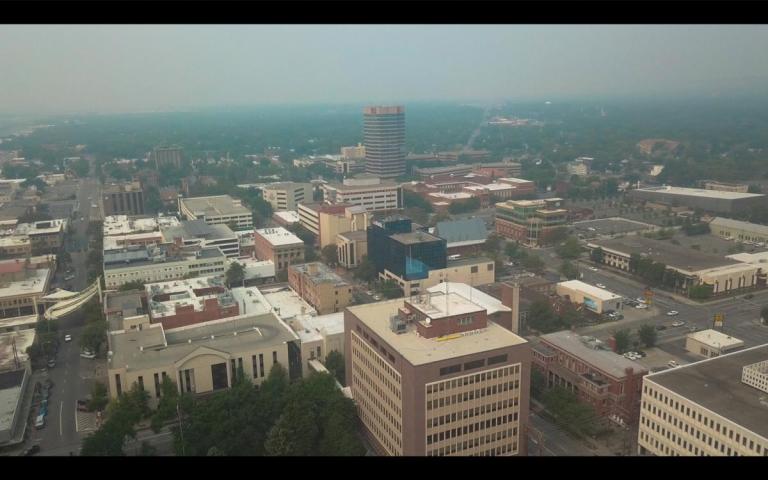 Located in southeastern Montana, Billings (population 110,000, elevation 3,123 feet) is the largest city in the state and offers a fun and convenient base of operations for a Shamrock Tour. The reinvigorated, walkable downtown area features a range of lodging and food options, while other travel services and resources (i.e. motorcycle shops, motorcycle rentals, pharmacies, etc.) are available within the city limits.
Like many other urban areas across the country, downtown Billings is experiencing a revival as old industrial spaces (with brick walls, wood floors, and high ceilings) are converted into restaurants, cafes, pubs, and apartments. Originally a railroad town, the city center was established before the popularity of the automobile and as a result is relatively compact and eminently walkable. www.visitbillings.com
LODGING: BEST WESTERN
The Best Western Clocktower Inn in downtown Billings served as the base of operations for this Shamrock Tour. The inn is perfectly located. More than a dozen of dining options are within walking distance from the hotel, including New American, Mexican, Thai, grills, and more. Stella's, which more than one person said was the best breakfast in town, was right next door. Rooms are comfortably equipped and include modern amenities like Wi-Fi, 42-inch flat screen TVs with cable and HBO, refrigerators, and coffee makers. There is also a seasonal outdoor pool, steam room and dry sauna, and the inn serves a complimentary full breakfast each morning. The Clocktower Inn also has covered parking spots and motorcycle washing stations including rags and soap. Find it at 2511 1st Ave N, Billings, MT, (406) 259-5511, www.bwclocktowerinn.com. $$$
BILLINGS, MONTANA SHAMROCK TOUR®
Approximately 884 miles
OVERVIEW
Billings calls itself "Montana's Trailhead" and features many notable places within a day's ride, along with others that are within thirty minutes of downtown. The surrounding area is large, dry, and very spread out, so a touring bike that can cover long distances comfortably is recommended. To the east and north of the city, sandstone cliffs known as the "Rimrocks" (or simply, the "Rims") rise up to 600 feet high. The area south and west approaching Yellowstone National Park is mountainous.
The best time to visit the area is between Memorial Day and Labor Day, although snow is still possible at higher elevations at the ends of that range.
RESOURCES
ROADS & BIKING
Billings sits in the Northern Great Plains where the terrain is mostly flat or rolling. The Rocky Mountains lie to the south and west. Despite harsh winters, roads are in generally good condition, although sections in the Crow Reservation are much rougher. Native American reservations are sovereign nations, so enforcement of speed limits and the handling of accidents may be different than in the rest of Montana.
Beartooth Highway is typically closed mid-October to mid-May. The region is sparsely settled, so there are long stretches without gas, food, or services. In remote areas, it's advisable to consider fuel and food whenever they are available.
MOTORCYCLE & GEAR
2018 Honda Gold Wings
Helmet:    Shoei Hornet X2, Schuberth C4
Jacket:      Aerostich Roadcrafter, REV'IT! Sand Urban 
Pants:        Aerostich Roadcrafter, Orlando H20 RF jeans
Boots:       Sidi Canyon GORE-TEX, REV'IT! Taylor
Gloves:     Aerostich Elkskin, REV'IT! Street & Steel Eastwood
Luggage:  F-Stop Guru V2 camera backpack
 
This article is published with the permission of RoadRUNNER Motorcycle Touring & Travel Magazine. It is not for sale or redistribution. RoadRUNNER is a bimonthly motorcycle touring magazine packed with exciting travel articles, splendid photography, maps and GPS files. Subscriptions are available on our website, or by calling (866) 343-7623.